The Kohn Foundation Mission Statement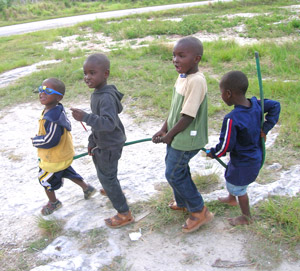 The primary mission of The Kohn Foundation (TKF) is to help improve quality of life for citizens of West End, Grand Bahama Island. TKF's initial work will focus on developing educational opportunities for West End students, assisting in expansion of local businesses, and fostering communication and friendship between West End citizens and residents of newer communities like Old Bahama Bay.
TKF will work with community representatives to develop local support, and residents will be informed of Foundation projects. Long-range goals will be formulated soon, and reviewed regularly. Fundraising will commence shortly.
GOALS AND OBJECTIVES
TKF has two immediate goals. The first is to establish a scholarship program for middle and high school students to attend private and/or technical schools or to defray public high school costs. A second program will focus on high school students wishing to attend college in the Bahamas or the United States. Requirements for student eligibility will be created with the input of local faculty from the West End Primary School and Eight Mile Rock High School, local government officials, and West End parents.
The second near-term TKF goal is to assist small West End village enterprises in accessing funding for viable business objectives. We are currently researching micro-credit as a possible source of low interests loans for groups of individuals qualified to develop small, local cottage industries. We have identified the types of businesses that qualify for micro-credit loans, including fish and produce markets, bakeries, waterfront food stands, arts and crafts shops, batik design and dressmaking businesses, and automotive and small boat engine repair shops.
Ultimately, supporting the education of West End students and expanding local business opportunities for residents will promote self-sufficiency within the village. Private and/or government education and training programs will provide developmental opportunities for those entering the job market. Incomes will rise, along with the vibrancy of the local economy with grass roots initiatives.
Once the general income level of West End improves and the village becomes more self-sufficient, other TKF programs will be pursued. We have identified the possible need for a pregnancy/day care center, where unwed mothers could receive medical care, parenting instruction, and continuing education. We are also considering a senior center to assist retired and elderly citizens with medical needs as well as to provide a location that focuses on their activities.
Finally, we envision a public library, a youth center, and perhaps a straw market in the village. Land owners can be encouraged and perhaps incentivized by the West End local government office, to abandon items on their property. There are many historic and abandoned buildings in disrepair which, with TKF assistance, could be renovated and constructively utilized.
Our Foundation expects to make a difference in the West End community. With the energy and financial resources we anticipate from supporters, our optimism appears well-founded. Working in measured steps, starting with small successes, we can, and will, have a positive impact.